How to book Palace on Wheels? What is the Cost of Fare? These questions must be floating in the back of your mind. Right? Fret not because you got the place to settle down these questions with the right answer.
It comes with no surprise that knowing the essential information is the foremost thing before starting any vacation. And when we talk about enjoying the Palace on Wheels, which is a luxurious vacation in itself. It is good to carry all the information before heading out for such an extraordinary experience.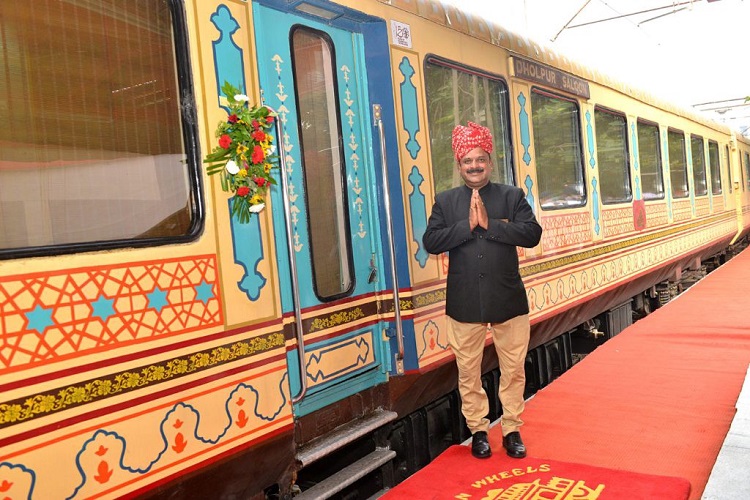 Palace on Wheels is fully packed with top-class comforts and facilities that offer the next level of comfort. It is one of the most luxurious trains in the world that has gained a lot of admiration by giving a unique traveling experience. We all have to admit that the train journey is one of the fascinating ways to travel, and when it comes to high-class comfortability, then a desire to travel in this train gets a place in our heart. If this condition matches with the thought that floats in the back of your mind, you got the place where you get to know the process of booking Palace On Wheels.
If you want to ride on this train, you must know about the descriptions and fare tickets and all the details that will give you a clear picture about booking Palace on Wheels. You will get essential information about ticket fare and booking steps of Palace on Wheels:
So let's jump into the information step by step for your happy journey.
The process of booking a journey on Palace on Wheels is trouble-free and straightforward. Here, we provide the complete details about it step by step. Check out this and book now yours.
Schedule of Palace on Wheels
If we talk about the present schedule of Palace on Wheels (2021-2022), it is segmented into two seasons. These seasons are known as Lean season and Peak season. Both seasons take place at different times in a year according to the schedule.
Now, talking about the something you must be waiting for, the list of destinations covered by Palace on Wheels. So it will mostly cover some famous destinations of India like- Jaipur – Sawai – Madhopur – Chittorgarh – Udaipur – Jaisalmer – Jodhpur – Bharatpur – Agra – Delhi. But as per the climate, these seasons are outlined by the board of the Palace on Wheels.
Let's Talk about Type of Accommodations
The accommodation on Palace on Wheels is classified into four groups. Single Occupancy, Double Occupancy, Super Deluxe, and Suite are types of accommodations in Palace on Wheels. Every room has a different fare as per the facilities are equipped. Apart from that, there is a difference between the fare for foreigners and Indians.
Look at the Process For Booking Tickets
After knowing the superficial information about his luxury train, let's talk about how to book Palace on Wheels with all terms and conditions.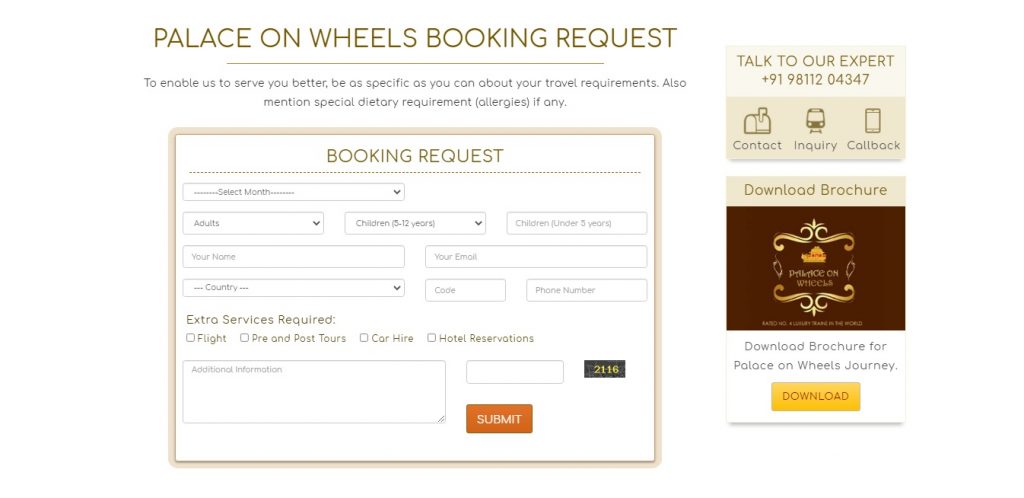 Step 1: Go to Booking Page and Choose the Year for Your Journey
After landing on the booking page of Palace on Wheels, you need to select the year. Choosing the year in which you want to experience this journey. You will get all the journey dates according to the months. Choosing the specific month and date as per your planning. It is suggested that you should carefully pick the season as per your traveling preferences.
Step 2: Select Journey Date
The next thing in this booking process of this train journey is about picking up the date. Choosing the date as you like and as you planned in your mind. After clicking on the date to make it your journey date, you will get to know that the orange color tick is imprinted on the date. You will find that there is an offer on selected journey dates, and you will get free airport transfer and sightseeing in Delhi. After selecting the date, click on the Next button.
Step 3: Select Member of Travelers
Now, it is time to submit the details about the number of people. You need to give the details about how many adults and children want to book this luxury train journey. Don't forget to mention any children under 5 to 12 years. It is necessary because there will be separate blocks by the side for children under 5 years. First carefully complete this list, and if you want to make any changes in journey date and something else, you will get an edit button. But if you are sure about the information and details, you may move forward for further process by clicking on next.
Step 4: Fill your Details
It is one of the crucial steps to book tickets for Palace on Wheels. In this fourth step, you will have to provide details, like your name, E-mail, contact number, and other essential requirements. After submitting all the details, you will have to recheck all the details which you have filled up. If there is anything that you want to edit, you can still do that by clicking on the edit button. It will be the last step of booking so make sure to check the details carefully.
Step 5: Fulfillment of your Query
After completing the final submission of your query, you will redirect to Thank You Page. When you see this page in front of your eyes, you will get to know that you have submitted your query successfully.
Inclusions and Exclusions of Charge
Firstly, we will talk about the fare inclusive things
Catering,
Sightseeing trips,
Entrance fee (for monuments, parks, palaces)
Cultural programs
Different rides like camel ride, rickshaw ride, safaris, elephant ride, and boat ride.
Let's talk about the fare exclusive things
Tips
Laundry
Drinks
Liquor
Business car facilities
Video camera fees and other items.
Terms and Conditions
The children under 5 years will be permitted 10% of the fare of the entire cost of the journey. The age group of children between 5 to 12 is permitted with half of the entire train journey cost.
It is mandatory to submit the Age proof certificate of children below or above 5 to 12.
On festive days like Christmas and New year, a 10 % surcharge will be charged on the fare of your entire journey. Departure on festive days like Christmas and New Year, a 10% surcharge will be summoned on the fare of the tour. The service tax will be charged on the entire journey according to the law of the government. All the above-mentioned terms and conditions are subject to change without any prior notification.
It is the complete process of a booking request for your journey on Palace on Wheels. Now, you are familiar with all the information like inclusion, and exclusion of the fare. Apart from that, terms and conditions and an easy process of booking.