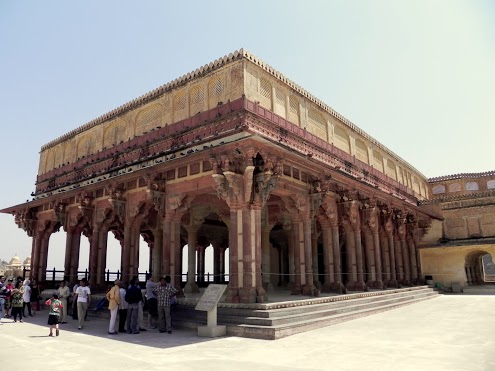 Amber Fort is one of the latest addition inscribed as a UNESCO World Heritage Site along with other 5 hill forts of Rajasthan.
Amber Fort is another common name for Amer Fort, a majestic fort situated at a distance of 11 km from Jaipur (Rajasthan, India). In 1592, Raja Man Singh – I constructed the fort using the red sandstone. The structure showcases a rich mix of Rajput and Mughal Style of architecture. This fort is believed to be the residence of Rajput Maharajas and their families. Fort ceilings, intricate work, precious stone works on the walls etc., are some of the attracting highlights of the Amer fort.
History:
From the 11th to the 16th century, till the capital was shifted to Jaipur, Amer was under the rule of Kachhwahas and was known as Dhundar, until the capital was moved from here to Jaipur. In 1592 AD, Raja Man Singh built this fort and it was later expanded and renovated by Raja Jai Sigh I. Though, there have been various old structures either been destroyed or replaced, Amer Fort stands against all odds, tests of time and attacks.
Attractions in Amer Fort:
Sila Devi Temple: This temple is devoted to Goddess Kali and the idol was set up by Maharaja Man Singh. The temple was constructed after winning the battle in Bengal against the Raja of Jessore. Maharaja Man Singh was instructed by the Goddess Kali in the dream to get the statue from the sea and install it in the temple.
Sheesh Mahal: Inspired from the Mughal architecture, intricate & beautiful mirror work is showcased inside the Mahal. Convex mirrors are used and thus, during the night times, the Sheesh Mahal gleams bright under candle lights.
Palace of Raja Man Singh I: This part of the fort was constructed under darting the rule of Raja Man Singh I. It took about 25 years to complete. This structure also features Pavilion, the place designated for the meeting of royal ladies.
Diwan-e-Aam was used to address people by the king. There are 27 porches, each mounted with elephant shaped capital, with galleries above it.
Diwaan-e-Khas was used to organize private meetings. This is one of the major attractions of the Amer Fort. Jas Mandir is also a common name for this place. Here, you may find the fine specimen of attractive mirror glass work. This was built by Mirza Raja Jai Singh in 1621-67 AD.
Getting In & Around:
Proper connectivity of railways and roadways makes it easy for the guests to visit Amer on side trips. To reach Jaipur, regular bus service is also available from Vadodara, Udaipur, Ahmedabad, Ajmer, etc. Trains from Ajmer, Kota, Alwar, Jodhpur, Agra, Mumbai, Ahmedabad, etc., also make a halt here. Both International and domestic airports are available in Jaipur. Further, to move around Amer Fort, taxis, cabs, buses, etc., are available.
Lodging & Food:
There is no accommodation facility available inside the fort. There are numerous hotels and rest houses located in proximity of the attraction. Jaipur is praised for heritage hotels, star hotels and budget hotels meeting the specific tastes and preferences of the guests. There are in-house restaurants in the hotels, or the guests could also choose from upscale to roadside eateries to tantalize their tastebuds.
Fast Facts:
Location: Jaipur, Rajasthan (India)
Built By: Raja Man Singh
Built In: 1592 AD
Renovated By: Jai Singh I
Visiting Hours: 9:30 AM – 4:30 PM everyday (except on Holi)
Best Time To Visit: Throughout the year.
Entry Fee: INR 10 for Indian citizens and INR 50 for foreign citizens.
Charges For Photography: INR 25 for Indian citizens and INR 40 for foreign citizens.
Charges For Videography: INR 100 for Indian citizens and INR 150 for foreign citizens.