Indian Luxury train, Palace on Wheels celebrates Christmas in style. On the day of Christmas, the beautifully-decorated Palace on Wheels reached the Golden City of Jaisalmer, with foreign tourists. Festivities were planned for tourists on-board to celebrate the joy of the festival.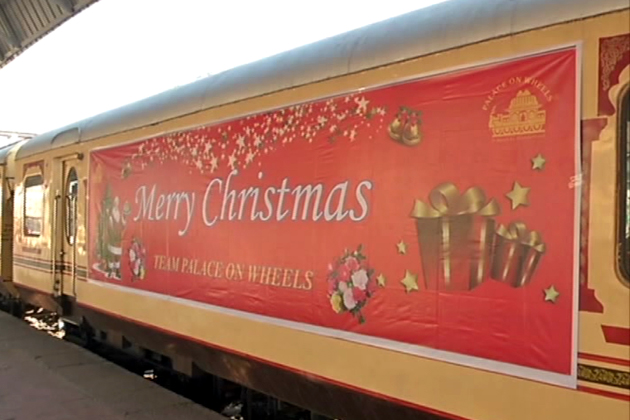 The luxury train celebrated the festival in its own royal way. This year, the Palace on Wheels Christmas special ride was chosen by 71 passenger from around the globe. 44 Americans, 10 Indians, 4 Belgian, 4 Qatar, 3 Singapore, 3 Germany, 2 British and 1 Malaysian were the passengers who celebrated Christmas on the royal train. A joyful 'Santa Claus' distributed gifts to the tourists. In the evening, a Christmas cake was cut and tourists enjoyed fireworks. A delicious diner was planned for the guests. They were also treated to traditional folk songs and performances by folk artists.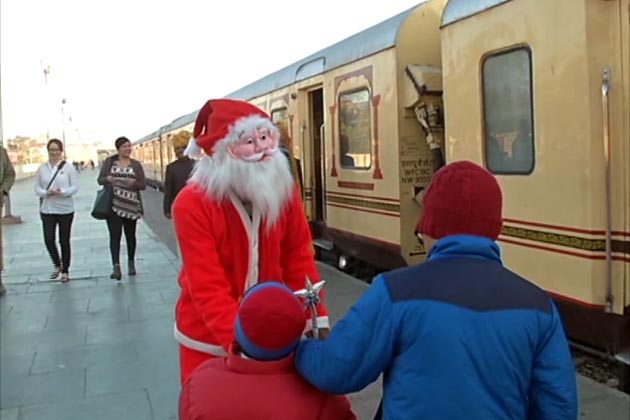 Pradeep Bohra, general manager of Palace on Wheels, said, "We have made special arrangements for the passengers on Christmas so that they feel at home on the festival day." He added that for the evening, a special dinner and dance programs were arranged for the tourists at a local hotel.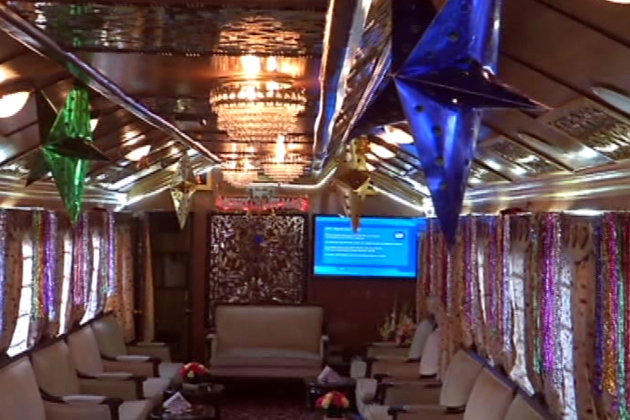 Apart from this, BSF jawans and officers at the Indo-Pak border also celebrated the festival. Sixty eight battalions under Jaisalmer sector (south) led by Vipin Patri offered special prayers. Children were given gifts. A traditional feast was also organized.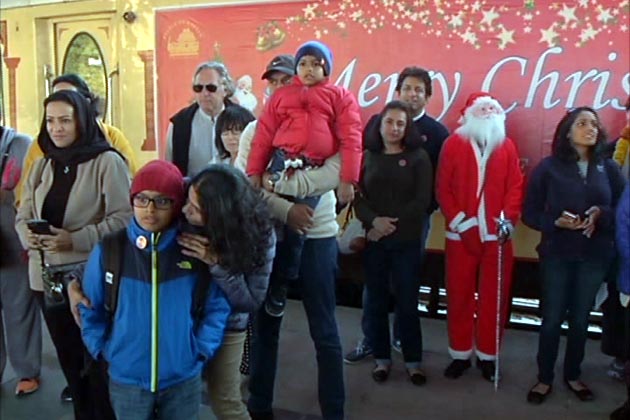 Palace on Wheels is a pioneer of luxury train in India. The train inspired from the way royalty used to travel is one of the exciting experiences of India. The train is equipped with royal comforts. The routes which the trains covers are a journey through Indian history, culture and heritage. Board the train for a spectacular sojourn across Rajasthan and Agra. The destinations that you will cover include 'Pink City' Jaipur, 'City of Lakes' Udaipur, 'Sun City' Jodhpur, 'The Jewel of the Desert' Jaisalmer, Bharatpur-home to the Keoladeo Ghana National Park and the red sandstone city of Fatehpur Sikri.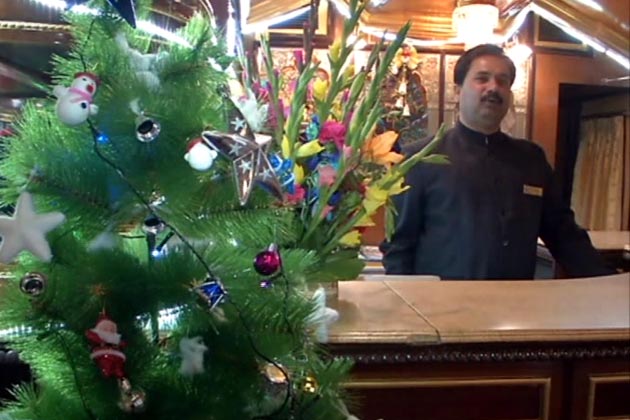 Palace on Wheels is a train with luxuries of a five star hotel. The 14 coaches of the train are named after erstwhile princely states of Rajasthan. Each coach exhibits the cultural ethos of these princely states represented through handicrafts, paintings and furnishings. There are two restaurants- "Maharaja" and "Maharani" offering lip-smacking delicacies with special emphasis on Rajasthani cuisine. The well-stocked bar showcases a premium collection of wines and spirits. A personal attendant caters to your needs during your travels. The train sets a new standard of luxury traveling.